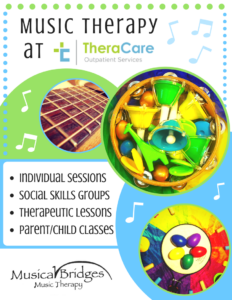 Happy September! We are so excited to be starting up our first Fall season at TheraCare Outpatient Services here in Springfield. We currently have several spots open for individual therapy or therapeutic music lessons as well as groups for both the kids and parents! In addition to individual services, two ongoing groups will be held each week beginning in September and running through November (December is too busy so it's the perfect time to take a break!).
Check out both of our groups and let us know if you have any questions!
In addition to the therapy group, we are excited to be starting a class for parents as well! Just because it says Mommy & Me doesn't mean that Daddies, Aunts, Grandmas, or friends can't join in! Bring your little ones ages 0-5 to this all inclusive music class designed to help parents learn how to incorporate music into their child's daily routine to promote healthy development.