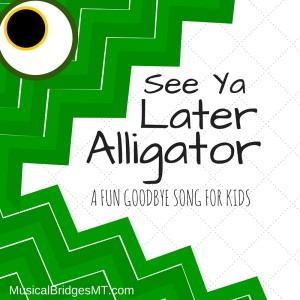 The Song: See Ya Later Alligator
The Artist: ????
I have sung so many goodbye songs over the years, but there is one that I always have a fun time singing that never gets old. I wish I could tell you where it came from, but I honestly have no idea. The song may have been derived or inspired from Bill Haley and the Comets' song "See Ya Later Alligator" but it doesn't sound much like their version. I believe my first memory of the song was hearing a colleague of mine singing it (Carrie if you are reading this maybe you know where it came from!) and a version of it has seeded itself into my brain and is holding on tight! I must inform you that the possibility of my brain creating an entirely different melody from the first I heard is a huge possibility, which also makes the hunt for where it came from all the more difficult.
Though I cannot give the proper credit, I can share with you what I do have, which is a cute song with fun actions you can add. There are a variety of verses that I have collected over the years from seeing the phrases in other places. These include:
Hang loose cool moose
See ya soon raccoon
Keep it funky little monkey
See ya next week parakeet
See ya next year reindeer (for that final goodbye of the year)
Take care polar bear
Hit the road happy toad
Bye bye butterfly
Toodle-loo kangaroo
Adios hippos
Hasta mañana iguana
Blow a kiss goldfish
Get in line porcupine
Out the door dinosaur
You can watch the video below to hear how it goes! I have also included the lead sheet below for anyone who is interested in using it yourself! Hope you enjoy it!
Click here for the lead sheet —>  See Ya Later Alligator