Musical Bridges Music Therapy was founded in 2011 by Leslie Jones and is located in Springfield Missouri. Our mission is to provide quality music therapy services to all ages and populations and to spread the awareness of music therapy in the community. Music is all around us. On the radio, the television, telephones, elevators, grocery stores, etc. The list is never ending! We encourage you to discover how this wonderful gift of music can help improve your daily life. Whether it's as simple as putting a smile on your face, or helping you overcome a greater obstacle in life, music may be just the connection, or "bridge", that you have been looking for.
About Leslie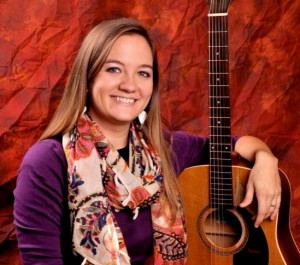 Leslie Jones, MMT, MT-BC, is the primary therapist and founder of Musical Bridges Music Therapy in Springfield, MO. She holds a Masters degree in music therapy from Drury University. After completing a music therapy internship for MusicWorx of California in San Diego, she received her Board Certification in Music Therapy in 2008. Leslie has provided services for  the Center for Music Therapy and Wellness on Drury's campus since certification, serving as a clinical supervisor for the music therapy students at the university. She also teaches part time on the music therapy staff. She provides both inpatient and outpatient music therapy services through the CH Chub O'Reilly Cancer Center at Mercy Hospital and continues to work on expanding oncology services in the Springfield area. Recently she has expanded services to TheraCare Outpatient Services, a speech and occupational therapy clinic in Springfield, providing individual and group therapy for children. She has also developed several early childhood development music classes in the Springfield area designed to educate parents and caregivers about the role music can play in helping their children reach developmental milestones. Leslie has experience working with many populations and settings including developmental disabilities, skilled nursing facilities, hospitals, dementia and Alzheimer's care, mental health, addiction recovery, oncology centers, rehabilitation (both physical and neurological), hospice, wellness and integrative medicine programs and support groups.
Click here to learn more about Leslie!